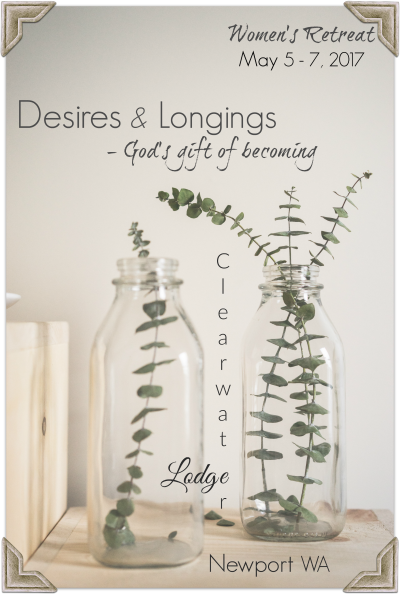 Nancy Bentz, Life Coach & Shammah Ministries
 Spring 2017 'Desires & Longings' Women's Retreat
May 5 – 7, 2017
Friday 4 pm to Sunday 10 am
Clearwater Lodge at Davis Lake
Newport, WA
For more about the retreat and all the details,
please refer to the retreat brochure.
Due to popular request from the last retreat for a 2nd night,
Clearwater Lodge is able to accommodate two nights for us.
Because the package is priced accordingly
I'm happy to offer a payment plan.
All who reserve their spot with a down payment by January 31 will receive a special gift at the retreat fitting the retreat theme.
Please contact me with your interest,
any questions, and to register
at 509.290.6810 or by email at ncbentz@comcast.net
Space is limited so don't delay!
Last year's retreat was attended by nearly 30 women;
reduced space for the Spring retreat allows for 20.
P.S. Take a moment to share this
retreat opportunity with friends and family,
share on Facebook, or Tweet to reach those I cannot.
Thanks in advance!
Nancy Bentz, Life Coach ~ Shammah Ministries 
nancybentz.com │shammahsfield.com