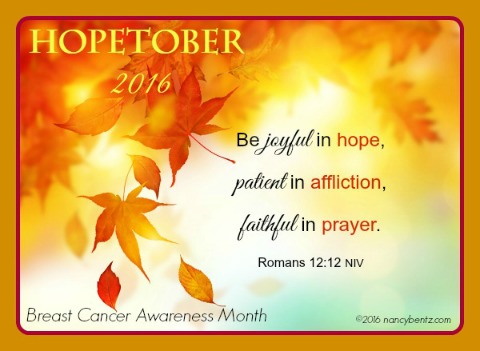 My favorite announcements are those made up of autumn's foliage. One quick read broadcasts in vibrant 'Printer's Ink' that October has arrived!
It's enough to cause sensory overload.
So does yet another email from a dear friend half a globe away telling me she was recently diagnosed with breast cancer. Surgery is scheduled for next week with a rigorous treatment course to follow.
Every year I write this annual Breast Cancer Awareness post, I'm supplied with fresh names to whom I dedicate my heart, prayers and support – near or far. I care for them too much not to care. Deeply. At the same time, the annual adding of more names to this not so auspicious list is getting ridiculous.
I say that with love because… well,
Can I be honest? I really, really, really dislike cancer. The treatment protocols – any of them – are not lightly danced through. For the one whose feet have been set on a journey through breast cancer-land, the only things dancing in this season are those gorgeous autumn leaves reminding us that hope and Hopetober Reigns. Still.
The spirit may be willing to dance but the flesh of this 'body in a battle' is weak. My favorite Rx to dispense is a nap. The more the better. God knew what He was doing when He invented sleep.
I know I am not the only one who has friends, family members, other loved ones or acquaintances who have been afflicted with breast cancer (or its female relatives) this past year. And the year isn't over yet.
For those who have traveled this path; for those who have not but are rich in hope – will you join me on behalf of those in the journey and their families in being
joyful in hope,
patient in affliction,
faithful in prayer
May the Lord keep you safe beneath His healing wings through this season upon you, Kathi. Praying for you and the many others my readers know who are walking this journey even now.*
And praising Him for those He has brought through in 2016!
~ Nancy  
*As always, you are invited and encouraged to post a comment with the name of those you hold dear who have been diagnosed with, survived or succumbed to breast cancer this past year. Thank you ♥
Photo credit: Canstock free image │PicMonkey enhancements