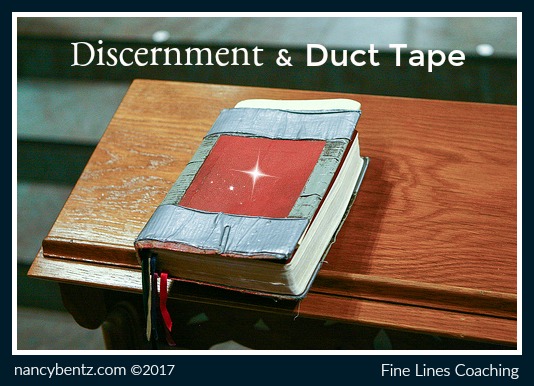 Welcome back to Fine Lines, where today we pair discernment and duct tape.
They each are a gift in their own way, but often function best as a matched set…if you discern what I mean.
Sometimes the hardest part of unwrapping this co-giftedness is knowing when to share what we are perceiving and when to resist the urge … which is where the duct tape comes in handy.
James, the brother of Jesus, in the first chapter of his brief but punchy five chapter epistle, wrote:
Know this, my dear brothers and sisters:
everyone should be
quick to listen,
slow to speak…
James 1:19 (CEB)
Somehow I get the impression that James may have learned the same way we do: by trial and error.
For him to become a disciple of his own half-brother meant he was on a learning curve that few others experienced the same way. I wonder how many 'off the (biblical) record' chats he and Jesus had. Similarly for believers, Jesus is our Elder Brother. I often encourage such chats, especially when in doubt of whether to give voice to what's being discerned or to put some duct tape on it till otherwise directed. We've already been instructed to ask for wisdom – which will not be withheld. In fact, it's promised to be given liberally to all who ask. Do we discern wisdom when it's handed to us in a roll of duct tape?
Well, shoot. Sharing what we've perceived is so much more discerning-sounding. Hint: timing is everything.
If we take a cue from James, it seems in the long run he discerned (in the midst of oodles of learning opportunities just like we have) that listening carries more weight than running off to the races with our mouth, like an eager beaver who jumps the starting gun. (If you can rightly discern that mixed metaphor, you get brownie points with your blue ribbon 🙂 )
Seriously though, discerning is a quality in the one skilled in discernment of being able to grasp and comprehend what is obscure (When the Obvious Isn't), and the act of perceiving something beneath the surface – stressing the accuracy of character, motives, traits of genuineness or lack of authenticity, etc.
Obviously there are times we are to speak forth, and those who love to share are eager to do just that. Likewise, there are times our best shade of lip balm is duct tape gray. You won't hear any complaint from those who would rather not speak up.
In both cases, leaning into learning the opposite of what comes naturally – and practicing it in our oodles of learning opportunities – causes us to become more comfortable and better skilled at rightly handling discernment and duct tape. All the while growing our sensitivity as to when which of the pair is fitting.
Like apples of gold in settings of silver
Is a word spoken at the right time.
Proverbs 25:11 (Amplified)
As always, you are welcome to contact me. If I'm in a session or have duct tape over my mouth, leave a message. I'll discern the time 🙂 and get back to you as quickly as possible. Discernment and duct tape. Who knew? 
~ Nancy
Photo credit: IMG_0850a-bishop-high-prayer-book via photopin (license)