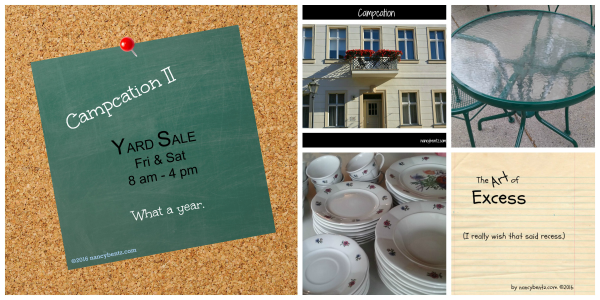 If it takes a village to raise a child, the village we call home took a year to raise a yard sale!
Previously in Campcation, all that could go sideways with our week of the Big Project at home did. Earlier in August we were up to our eyeballs with windows 101, 201 and yard sale prep.
The last weekend of August we made it to our goal of Campcation II – installing the last two windows and a cul-de-sac 'meet and greet', otherwise known as a yard sale. My husband camped out on scaffolding while I was never so glad to see a harvest gold blender toted out in the arms of one while watching another take up our (now 'thy') pole lamp and walk…off.*
By the time the weekend was over we had a nice little wad of cash, Goodwill had a nice little donation of leftovers, Craig's List was set to feature a few pieces of furniture and dishes for eight, and our garage got cleaned and tidied up to where we can see more cement floor than we have in a very long time!
It required days of hard work, hot showers and doses of Ibuprofen for achy muscles. But, we finally experienced the reality of what was simply wishful thinking fourteen months ago when the bathroom plumbing went geyser on us (while I was blissfully unaware and writing Six Stages of Thirst!).
When my tired brain cells recharged enough to reflect on all the 'fun', I came up with a nice little list of observations. Teachable moments lurk everywhere, including yard sales and in (flood) season and out.
A lot of miscellaneous and in no particular order (kinda like the stuff of which yard sales are made), here are some of those observations. I hope a few of them may be just what you need to be inspired, guided or motivated to get some things in order in your village too –
Shoot for moving things once. Be prepared to move them twice. Think it through before you have to move it a third time! If it's heavy, buy stock in a good pain reliever.
Unless you are a guru of yard sale how-to's, ask for some tips from your village people and look for yard sale tips online. Saved my bacon (and I lo-o-ove bacon) when it came time to roll up my sleeves and get this show on the driveway.
Make. A. Plan. Write. A. List. Then. Go. Shopping. – There are some essentials needed for a successful yard sale. Like signs. An assortment of cash and coins to make change. Coffee. A few things in the fridge to grab and eat on sale days. More coffee. A new permanent marker and painter's tape for pricing items. I even pulled out a fanny pack from the yard sale pile on the guest room floor to carry the cash (until the strap busted and I was down one yard sale item and on to Plan B for what to do with Fort Knox).
At some point the adrenaline rush kicks in when it comes to sorting and tossing, praise God. Capitalize on it and clean out the refrigerator too.
Treat yourself to a game of 'surprise!' by opening drawers and cupboards and closets after you've cleaned 'em out. It feels good to see the fruit of your labor and space where once was a pile of clutter!
A yard sale is a fine way to sample a good cross-section of humanity. There is something about sitting in your driveway hawking your household goods to total strangers that elicits responses and emotions.
It's true: never judge a book by its cover. Some of the folks most different from me were the most warm when greeted and wanted to visit. On the other hand, some of the 'covers' seemed intent on living up to the chip on their shoulder. Two women who came together managed to make off with a small item. Though irritated when I discovered it, I thought it sad because the item wasn't worth anything. It seemed more like a compelling need to try and prove they could get away with it. They did. Though I'd like to tell them they didn't gain one thing, just gave away another piece of their soul by robbing others.
Plan on eating out at the end of a very long yard sale day. Denny's pancakes at 10 pm are quite tasty.
Resign yourself to the fact that there is always more you could have put in the yard sale. In our case I made a great sweep through the house and the big items that were stored. That alone makes for a clearing out victory! In our case, I may have to grin and bear it with one more yard sale next Spring. We haven't even sorted my husband's 'guy stuff' yet.
Murphy's Law is in effect at yard sales. The first two people to hit the sale were men looking for tools. See above statement.
Which leads to my next observation. As we come across items that didn't make it in this sale but needed to (including going through the 'guy stuff'), we'll place them in a plastic tub or box to start collecting now. We have all winter ahead. That alone will cut down on hours of prep next Spring. And if (like me) you're not really into yard sales, use this idea to collect a box of items to donate. When full, pull into your favorite local thrift shop / collection center and drop.it.off.
I could go on but then I'd be practicing The Art of Excess.* Let's not go there…till the next yard sale!
Which, by the way, is my last point.
12. If you need / want to hold a yard sale, pick a week and write it on your calendar. Plan it. It won't hold itself.
Good advice for any number of life endeavors!
~ Nancy
Photo Credit: PicMonkey collage