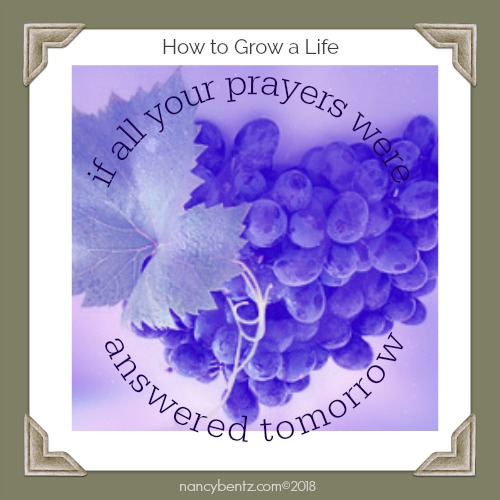 If all your prayers were answered tomorrow, what would be your response?
Personally, after the initial joy and excitement at the realization of answered prayer, I'd probably be jolted back to the other side of reality in short order:
wondering if I could bear it all –
both the joy and the added responsibility
Because the reality is, with answered prayer comes stewardship. 
What you didn't have before, you now do.
Asking God in prayer for the desired results is good.

Asking Him to strengthen your heart, soul and body to receive His blessing of answered prayer is better.

Asking Him for wisdom – which He has promised liberally to all who ask –
to meet new problems that come with answered prayer is vital.
When growing a life it's tempting to seek, even in prayer, outer blessings, then gauge success by external results. (I'm well familiar with this merry-go-round and penned some thoughts a while back in The Look of My Blessing). However, there is a further appeal in prayer that is essential: prayer for inner strength, to not only be prepared but able to bear the blessing.
Outer blessings, Inner strength: a crucial combination if all your prayers were answered tomorrow.
These days in which we live are full of well-meaning challenge to dream big, remember you serve a big God, and 50 other ways to shore up waning or waiting faith. In my personal 'how to grow a life' journey, I've learned there is always something God wants us to discover in the waiting that is meant to build strength and fortitude, in order that we don't faint upon arriving at the goal of answered prayer.
Sometimes He gives us a pop quiz like this one. So, frankly (honestly, realistically, clearly, truthfully…) if all your prayers were answered tomorrow, would you have the inner strength of being prepared (in a state of readiness), and strengthened within to receive the blessing without?
May our first response be a prelude of prayer today for inner strength to meet tomorrow's answered prayer.
My flesh and my heart may fail,
but God is the strength of my heart and my portion forever.
Psalm 73:26 NIV84
What inner strength do you sense God wanting to develop while you wait? With Him, I'm here to help.
~ Nancy
Need more encouragement in growing your life? I invite you to read Your Future is Today.
On my companion spiritual development blog, Wellspring of Life, this post about Caleb is noteworthy: The High Stakes of Inheritance. His life is a rich example of the inner strength written about above.
This year I encourage you to invest in learning how to grow a life – yours, with lasting inheritance.
Photo Credit: PicMonkey template/enhancement