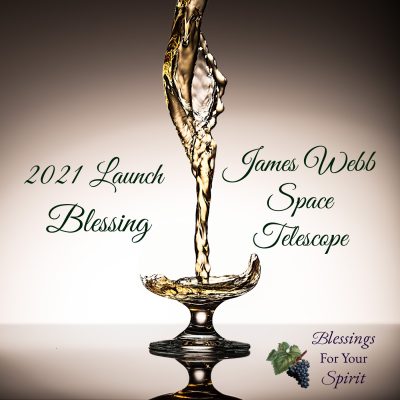 Global Prologue –
 "Merry Christmas! We got you a new telescope." Eight words and a successful Christmas morning launch later, the world was given a global gift of the James Webb Space Telescope (JWST). For those following NASA and the weather that changed the launch date several times, a collective sigh of relief and rejoicing was expended when the first hurdle was cleared – that of a successful blast-off! The first hurdle in a lineup of many on its million-mile trek to its L2 orbit (four times farther away from earth than the moon ever gets) for the next decade or more.
In the first seven days spanning the last week of 2021 and greeting 2022, the JWST must undergo a series of pre-programmed and ground timing-operated deployments, the pre-requisite to their mission to #UnfoldtheUniverse. It will take roughly thirty days for JWST to arrive at its target and six months from launch before the first data begins transmission back to earth. If you are interested, you can track Webb's journey here: webb.nasa.gov/whereiswebb.
When Hubble was launched in 1990 (with now 30+ years of incredible discoveries shared with the world), some of the over 1200 skilled engineers, scientists, and technicians that worked on the James Webb Space Telescope had not yet been born. JWST was in its infancy of being developed thirty years ago when Hubble Space Telescope began its mission. The hope is that Hubble and JWST will enjoy some overlap years before JWST, far out of serviceable range, runs out of fuel. Even now just launched, creative minds are turning toward designing a refueling possibility in the next decade. Blessedly, initial reports are that less fuel was needed in its critical first week, which already points to an extension of JWST's presumed lifespan of ten years. These are incredible days.
Personal Prologue –
At a personal level, one of intimate acquaintance – our oldest daughter – has been granted another step of a lifetime in her journey as an astrophysicist. About four years ago, NASA/JWST was reviewing applications for time on this incredible telescope once it is operative and its systems tested (the initial six months post-launch). Over 1,000 proposals were submitted from scientists, astronomers, and physicists around the world in hopes of selection for the highly competitive General Observer time on the JWST. All proposals underwent a rigorous process, with the selected 286 proposals granted a Cycle 1 spot in the first year of the telescope's science.
However, for the telescope to realize its full science potential, the science community needs to quickly learn its instruments and capabilities. As a result, the Space Telescope Science Institute and the JWST Advisory Committee developed the Director's Discretionary Early Release Science Programs, crucial for the purpose of vigorous testing and initial observations in six science categories the JWST is designed to study.
Just thirteen proposals were selected from the application process for the Early Release Science Programs. This is the gift our daughter received in November 2017 and the subsequent successful launch on Christmas morning. She will lead her team of six individuals from the US, Australia, and the UK in the first five months of observation following the six-month commissioning period. It will be Christmas in July when the observation time begins!
For the science lovers among us, the representative six science programs and thirteen initial teams are listed at https://www.stsci.edu/jwst/science-execution/approved-ers-programs. Dr. Misty Bentz and team's focus will be on Massive Black Holes and Their Host Galaxies. In her words, as with many other scientists, "we don't know what we will find, but we know we will find surprises!" It has been a collective experience in the field of space telescope observations that the discoveries made were not anticipated. Pre-loaded surprises await our world.
The Human Spirit in Community
About a week prior to launch I clicked on an article that highlighted as key, five ways the telescope mission could fail. The One greater in me stirred as I read, and I began to pray. Fully aware that innumerable facets – including money, personally held beliefs, NASA, science's reputation, faith, time, focus, and more – swirl around this endeavor, a greater awareness was set in my spirit. Three specifics came in quick succession:
It was as though I sensed God's opposite Spirit against any Tower of Babel conspiracies revisited. I can't fully convey what I knew in my spirit, just that He has been waiting for this time in history. God has revealed Himself in times past and will again; something Isaiah and Paul knew as they each declared,
No eye has ever seen and no ear has ever heard
    and it has never occurred to the human heart
All the things God prepared for those who love Him.1
We are on His threshold once again, now in our lifetime. I believe the JWST is part of His revealing.
I was captured by the thought of the multitude of individuals involved in the JWST's design, development, construction, and testing myriad times. Immersed in the purpose the Lord birthed in me with this website, the unique individuals in the collective team and community stood out to me afresh. The next morning upon awaking, I was strongly impressed to write a year-end blessing for this group.
And finally, intimated briefly above, Holy Spirit confirmed to me once again that our children truly do belong to Him first and loaned to us second. We did our part, and now He is unfolding them in their day and time for which their lives have been appointed. It brings joy to overlap in their journeys and ours.
2021 Launch Blessing ~ James Webb Space Telescope
 To every individual who worked in some capacity on the James Webb Space Telescope, I invite your spirit forward for blessing from the heart of God. You may never know of this blessing in the natural, but the Sevenfold Spirit of God knows no barriers to those whose lives He holds precious and in whom He delights.
 Prophet
To the designers, I bless the Prophet portion of your human spirit. From that internal place of wondering, you brought to the table the design in idea form; that mind's eye picture from which the final product took shape. Such vision was seeded from the depth of your human spirit and wedded with your skill and intelligence. Understanding was birthed here, and the rest followed. I bless you with Holy Spirit's joy and gratification that was brought into our world because you leaned into that which you envisioned as finished a journey away.
Servant
 To the technicians, keepers of the atmosphere, both physical and spiritual, I bless the Servant portion of your human spirit. Some of you wielded the white glove, cleansing and protecting the domain in which construction was taking place. No matter how large or small, sensitive, or costly the components requiring your service, they carry the mark of your careful and faithful handling. I bless you with a turning of times of tedium and stress to a compensatory equalizer of shared excitement as you are released. Job well done, good and faithful servant.
Teacher
To the engineers, I bless the Teacher portion of your human spirit. The telescope would not be sailing far above us without your collective dedication to truth. You know that abstract assumptions will never produce what essential facts are necessary to deliver. You are the ones who carry an authority to bring blessing, especially generational blessings. I bless you with a great sense of fulfillment as you witness the incremental dispensing of what JWST reveals. What you accomplished and will be revealed are evidence to the world of God's presence.
Exhorter
To the scientists, I bless the Exhorter portion of your human spirit. You are the ones called to a public ministry of the practical workings of God, mobilizing large numbers of people to act, and strength to build relationships. Each one of these key aspects will be tested individually and in teamwork as JWST begins to transfer data. I bless you with a God-given influence over the numbers of people watching, learning, and listening as you share your knowledge with the world. I bless you with Holy Spirit's power of reconciliation operating in and through your life, particularly as what is brought forth to public knowledge is debated. I bless you, Exhorter portion, to be you.
I bless you who participated directly in bringing construction of the JWST to completion. Though the workload was oppressive, I bless you with reaping contentment from the time you invested, notwithstanding that same time spent developing your finest abilities. I bless both camps, those before and those poised.
Giver
To the collective whole of the JWST scientific community, I bless the Giver portion of your human spirit. While Prophet conceives, Giver brings forth so the community can add the nurture and care needed. Today you are lifegiving witness to a completed, finished, incredibly sophisticated and precision-intricate space telescope. Each one in your own way gave to the project from out of how you are designed, hardwired, learned, and skilled. I commend you for your stewardship of the project. I bless you as control has shifted to a need to walk by faith. I have prayed for you, Giver hearts, that JWST will accrue much for all and not be devoured – as God out-gives you.
Ruler
To humankind, I bless us the world 'round in the Ruler portion of our human spirit. We were created for freedom and not for exploitation. No predator spirit will ever overwhelm our overwhelming Creator God. I bless our humanity with an increased revelation of the power of God, His presence in everything He has made, and hearts that cannot but bow in awe to the One who set in motion the universe that is as life-giving as He.
Mercy
To You, God of Mercy, I offer blessing from the fruit of my heart and lips, for You are great and greatly to be praised. Unto You, O Lord, may everything that has life make its praises known. For it is because of and in You that we live, and move, and have our being – both on earth and throughout the majesty of Your universe.
Before time itself was measured, the Voice was speaking.
    The Voice was and is God.
2 This celestial Word remained ever present with the Creator;
3     His speech shaped the entire cosmos.
Immersed in the practice of creating,
all things that exist were birthed in Him.
4 His breath filled all things
with a living, breathing light—
5 A light that thrives in the depths of darkness,
blazes through murky bottoms.
It cannot and will not be quenched.
 John 1:1-5 – The Voice
~ Nancy
1 I Corinthians 2:9 – The Voice
Find more in Blessings for Your Spirit and Redemptive Gifts Checklists